Admission Guidelines for Elementary School
Admission Guidelines for Elementary School
Applicants to GKA Elementary School are required to take an entrance examination in the prior fall.
This information is for 2021 enrollment of new first graders.
Number of Students Accepted
90
Date of Examination
November 13th, 2020 and November 14th, 2020
Application Criteria
Children who were born between April 2, 2014 and April 1, 2015
Application Document
Entrance Application Form and Exam Admission Ticket
*will be distributed at school orientations or can be obtained upon request after the 1st school orientation.
Examination Fee
10,000 yen
(To be bank-transferred to the designated bank account.)
Period of Acceptance
From September 14th to September 30th, 2020
School Orientation

No available registration at this time.
・Joint orientation of both GKA Elementary School and Preschool
・Elementary School Classes are available for observation.

Contact for Inquiries
Admissions
TEL 0276-33-7711
Elementary School Tuition and Miscellaneous Fees
| | |
| --- | --- |
| Enrollment fee | Ota resident: 200,000 yen Non-Ota resident: 400,000 yen |
| Tuition | 58,000 yen  /mo. (696,000yen/yr.) |
| Facility fee | 100,000 yen  /yr. (50,000 yen in Apr. /Oct.) |
| School Lunch fee | 9,000 yen  /mo. (excluding Aug.) |
| Welfare fee | 6,000 yen  /yr. (in Apr.) |
| Study Materials fee | 30,000 yen  /yr. (in Apr.) |
| Others | Additional fees for summer & winter uniforms, a school bag, sportswear, indoor shoes and translated textbooks are expected. |
(as of October, 2019)
School Uniform
Elementary School Uniform(Summer)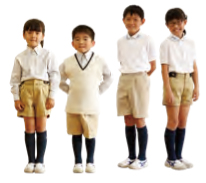 Girls are may wear trousers and short pants.
Elementary School Uniform (Winter)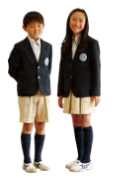 Long trousers may be worn with the winter uniform.