English Language Arts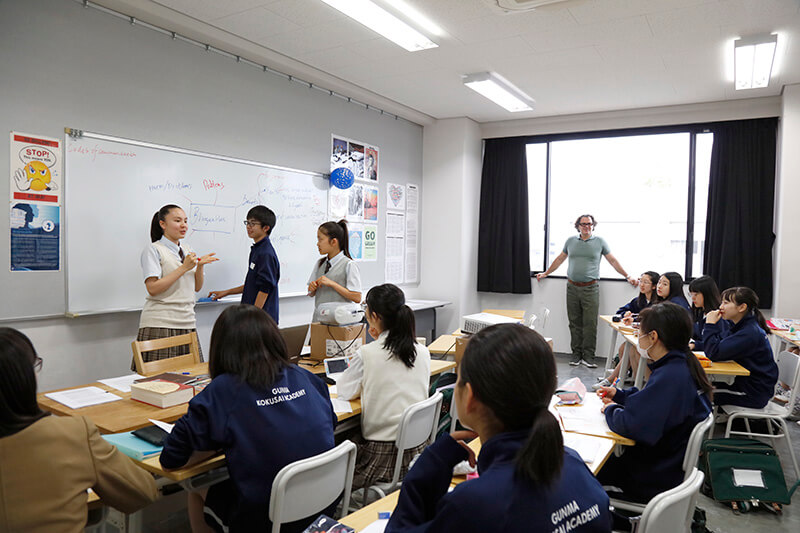 The goal of the English Language Arts department is to create students who are fluent English communicators, who think critically about the world surrounding them, who are tolerant of different beliefs and opinions, yet not afraid to ask hard questions.
The ELA department's primary goal is to continually develop student's English skills through reading, writing, speaking, and grammar. Students read novels, short stories, and non-fiction works, which allow them to look at the world through the eyes of other people, developing empathy and understanding of social and cultural contexts which might otherwise seem alien to them. Students compose several different types of academic writing, from personal responses to longer-form research papers, preparing them for university. Presentations, mock trials, role-play activities, and other speaking activities serve the dual purpose of instilling confidence in students while also helping them to develop their rhetorical skills. Additionally, the continued study of grammar ensures that students can communicate in an effective manner.
The ELA department is committed to ensuring that students become fair-minded, reflective global citizens, who will go out into the world and make a difference.
Japanese Language Arts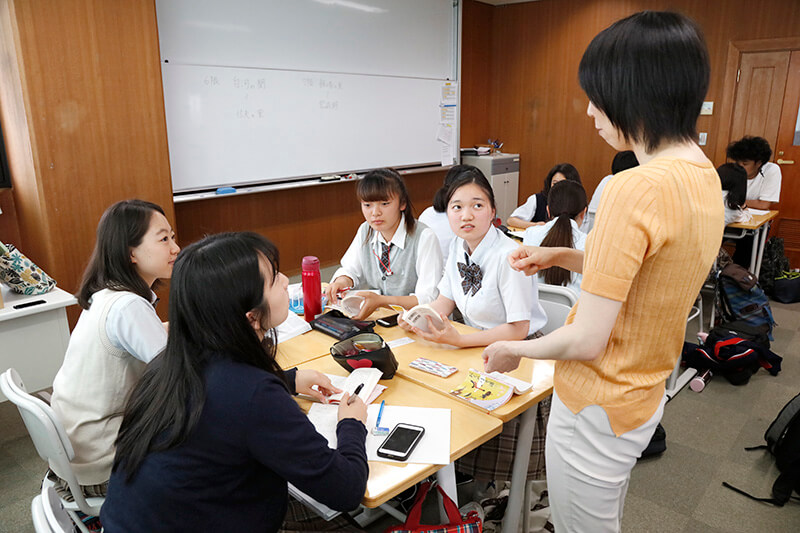 In order to enhance basic Japanese academic skills, there are three main objectives in the Japanese language arts curriculum at GKA.
To improve abilities of thinking and expressing through understanding Japanese precisely and expressing it properly
To improve abilities of critical thinking and presentation through respecting Japanese language arts and traditional culture
To deepen understandings of Japanese language art and traditional culture through nourishing an attitude of respect
Secondary students at GKA use the same textbooks as found in other public schools (Except IB courses). In classes, we focus not only on basic contents, "Speaking and listening", "Writing", and "Reading", but also on critical thinking. This is done in order to develop an ability to understand things objectively and analytically not to simply accept things as they are. In addition, we often include activities to improve students' presentation skills enabling them to express their own opinions to those within and outside Japan.
In junior high school, students deepen their cultural understanding through not only study novels and criticism, but also through experiencing a variety of literacy works such as "rakugo", "noh", and drama. Also, by associating with school trips and other extra-curricular activities, we are able to design a curriculum which students can benefit from outside the classroom.
In January of the 10 th grade, students choose between pursuing domestic and IB courses. In order to prepare students accordingly, classes are divided into preparatory classes. Regardless of which course they choose, the focus on developing reading comprehension, writing, and communication remains the same.
In IB courses, which start from the 11 th grade, two Language A courses are offered;"Language and Literature" (SL) and "Literature (HL)". Depending on the individual ability of the student, we additionally offer Language B. In domestic courses, we organize classes according to the students' choice of studying humanities or sciences.
Ultimately, we feel strongly that it is very important, especially for those contributing to a global community, to have respect and a deep understanding of one's native language and culture. By familiarizing students with Japanese classics throughout Language Art classes, we hope to foster a respect for traditions and culture.
Math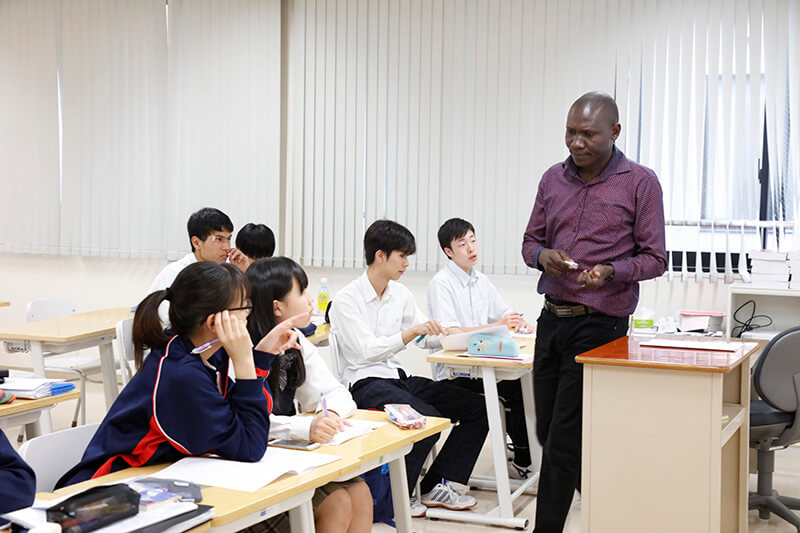 The mathematics department provides lessons for students in both language mediums, Japanese and English. At the Junior High level, over half of the classes are taught in English and the other are taught in Japanese. At Senior High, students will be able to choose from the IB course and domestic course from G11. Students who take the IB course will have their mathematics classes taught in English. Students who take the domestic course will have their mathematics classes taught in Japanese.
Within the maths department, our goals as teachers are for students to develop in the following ways:
We encourage students to relate what they learn in class to the real world. Hence, students are able to use concepts learned in mathematics classes in daily life situations.
We want students to be able to think logically in any situations that require logic.
As we have teachers from different parts of the world with various styles in education, we encourage students to be able to solve problems in more than one way or from more than one angle.
We encourage students to be active learners and be able to see the purpose of what they are learning. Students are to learn with willingness, interest and self-discipline.
Let's enjoy mathematics!
Social Studies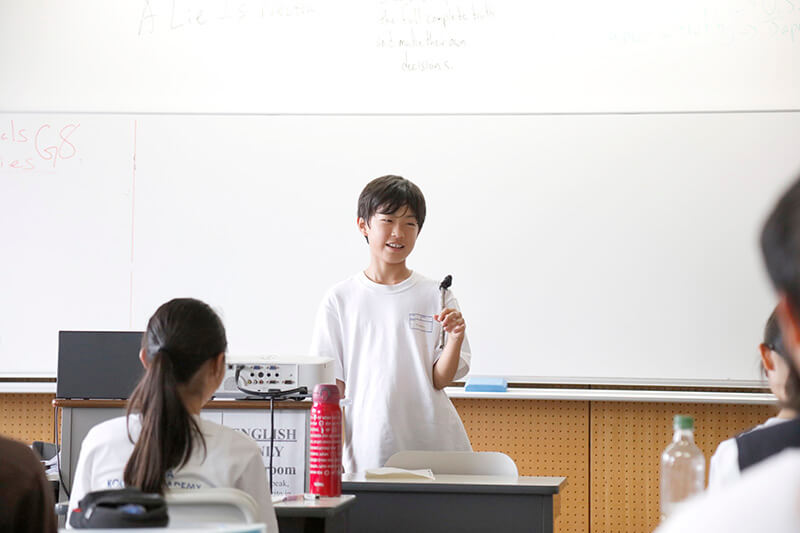 The Social Studies department at GKA aims to ensure that students become knowledgeable about the world around them and their place within it. With lessons split equally between English and Japanese at Junior High School, students are required to think critically and express their ideas about History, Geography, and Civics in both English and Japanese. At High School, students in the Domestic Programme are able to continue to study in English in both humanities and science course through the Global Issues, and History and Geography in Japanese. On the IB Programme, students take IB History, where they are taught how to write persuasive essays that make arguments about different events from the twentieth century.
With lessons split equally between English and Japanese at Junior High School, students are required to think critically and express their ideas about History, Geography, and Civics in both English and Japanese. At High School, students in the Domestic Programme are able to continue to study the Humanities in English through the Global Issues course, and in Japanese in Japanese History and Geography.
Science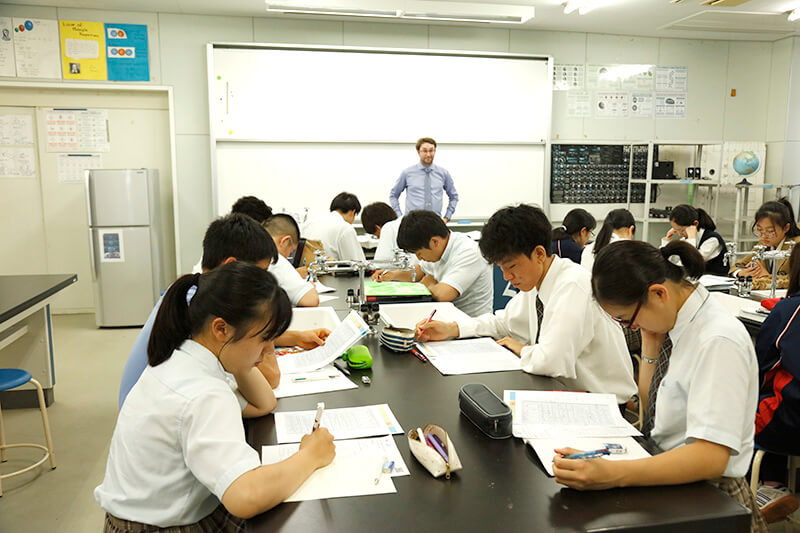 Welcome to the Department of Sciences webpage! The mission and vision of the Department of Sciences is to provide education while instilling in our students the need to harbor dreams to attain-successful careers both in Japan and overseas and to be able to communicate scientific content in an international setting. Please explore our website and consider making GKA part of your child's academic goal for a real life education. We promise to help fulfill your child's dreams!
Our unique science program integrates instruction in both English and in Japanese. At GKA, science instruction is done in two languages:three hours a week in English and a review of the same content once a week in Japanese. As a result, our students can now compete side-by-side with their counterparts in regular Japanese-schools and are also set to put their mark on the International Baccalaureate (IB) exams which GKA students will attempt for the first time in November 2013.
TEXTBOOKS: In addition to an enormous stock of science reference materials in print and electronic form, we issue two science textbooks at the beginning of every academic year. Regular Monbukagakusho approved textbooks in Japanese and the same textbook translated into English.
PRACTICALS/LABS: We have state-of-the-art science laboratories designed to incorporate the latest information technologies during instruction. We have a suite of analytical instruments in our laboratories that will help us meet the challenges that come with the experiment-intensive IB diploma program.
SCIENCE FAIR: The science fair is organized once a year to give students a chance to pursue independent research in their various areas of interest. We use the science fair to develop, in our students, the scientific method-solving problems and determining answers to questions in a logical format and presenting results in a scientific report.
FACULTY: GKA's science faculty and staff possess a range of talents, interests and disciplines. Many are recognized as experts and leaders in their fields of study. They are dedicated to producing outstanding scholars and promoting life-long learning. Our faculty dedicate themselves to work with students by providing personal advice to plan their academic program and serve as advisors to club activities. Our faculty is truly global and is among the very best in their countries of origin.
Music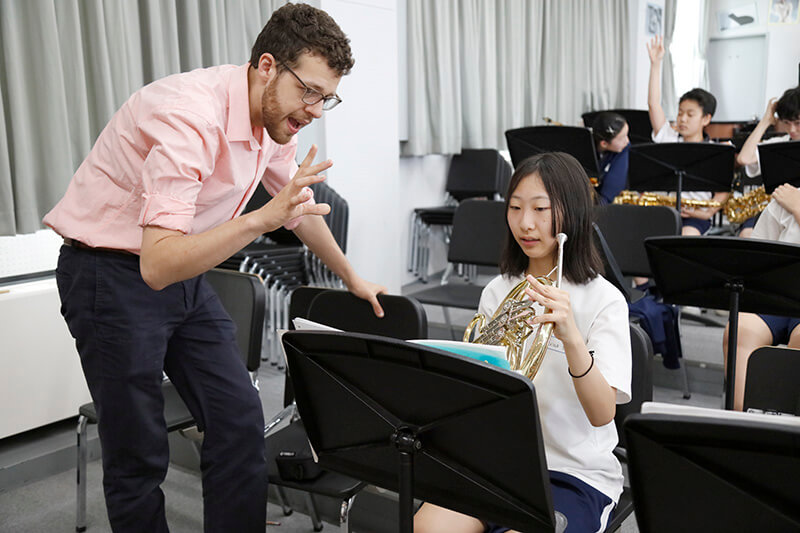 In the Junior High, students learn instrumental music in the classroom and have the option of choosing to continue instrumental music in the Senior High. Senior High music elective courses include Jazz Improvisation, Music Theory and IB Music.
In addition, both Junior and Senior High students may join the GKA Wind Ensemble and GKA Jazz Ensemble that meet after school as a club activity.
Art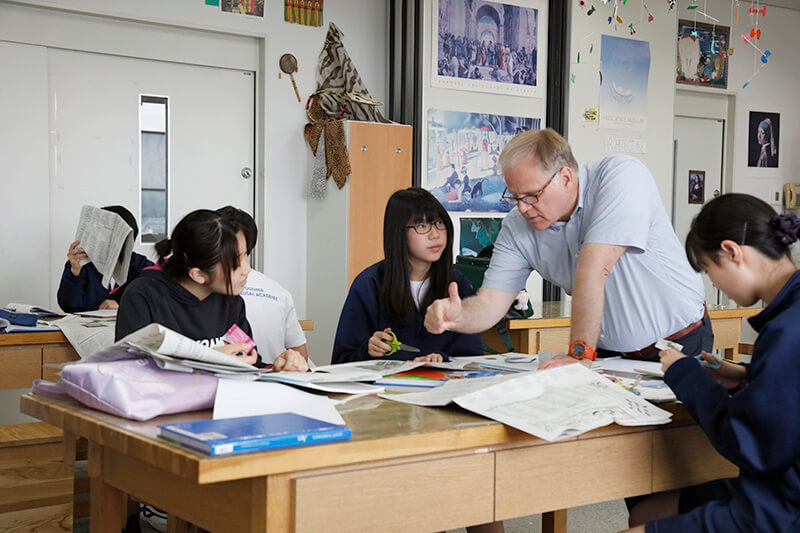 Our students are always improving their skills and understanding in art at GKA. A foundation of basic drawing is laid in the seventh grade and is built on up through high school. Eighth grade continues with further instruction in drawing while ninth grade is focused on art related to writing such as western calligraphy and designing hanko. Three dimensional and traditional Japanese arts is also part of the curriculum in each of these grades.
In grade ten students choose either music or art. For those deciding on art can expect more concentration on designing. Vehicle and package designs are among the popular lessons. Whether students will take IB Visual Art in the 11th grade or not, they will benefit from the concepts of the course that are introduced along the way as early as the seventh grade such as researching artists, analyzing art, and writing reflections about their own art making processes.
The IB Visual Art course is a vigorous study that includes everything that has been mentioned and more. It is a demanding course that requires the students to give consistently of their time and efforts in order to receive strong marks in the end. Students will find this course both challenging and rewarding.
Physical Education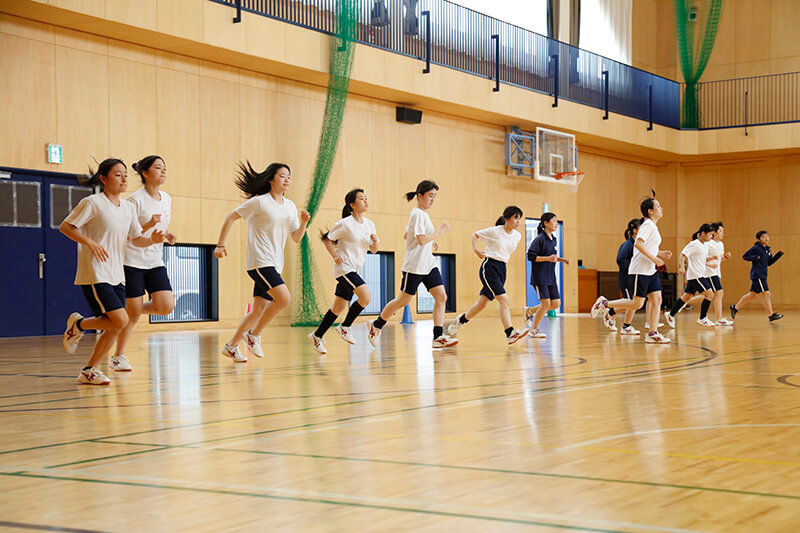 Objectives:
Health and physical education teaches life-time fitness and healthy decision making. Politeness, listening skills and punctuality are traits which a health educator instills naturally to their students.
GKA health and physical education strives to encourage all student body to participate in a safe, comfortable setting with modern facilities and advanced from qualified, seasoned health educators.
Setting your student up for successful, lifelong experiences of learning is our goal. Athleticism isn't a prerequisite for physical education. Open minded, uninhibited challenges instill a positive environment which in turn promotes life-time fitness, and knowledge of health and wellness.
We look forward to teaching your student and aiding in their health and fitness as they grow. Thank you for your support.
Home Economics
Purpose:
Home Economics at GKA focuses on practical approaches to learning and well as learning through experiences as an IB school. In junior high, students study basic knowledge and skills regarding food, clothing and housing, enabling them to be more independent. After acquiring these necessary skills and knowledge, we aim to grow attitudes that address global environmental issues and foster cultural exchanges as members of a global society.
In senior high, we focus on developing well-rounded human beings who have inquiring minds, good communication skills and strong beliefs. These are essential qualities for IB students. In addition, in order to learn the importance of Japanese culture, the curriculum is designed to assist in studying and experiencing different cultures, including living abroad. Students study experiences of everyday life and current social issues individually and in groups.
Grade
Contents
7

Diet・・・Cooking practice(more than 6times/year), Try cooking licensing
examination(Cutting cucumber in round slices)
Becoming independent・・・Communication ability as an international citizen(
Praising game)

8

Clothing・・・Second hand cloth remaking contest
Housing・・・Simulate living alone and design ideal room

9
Child care・・・Try nursing licensing examination(Origami)!
11

Cooking championship (Japanese, Western, Chinese, 3times/year), cook more than 3 dishes within 30 minutes, non-
Japanese teachers will judge them to decide the champion.
Introduce the attractiveness of Japanese cloth in English, make them, experience how to put on Kimono, and hold a fashion show.
Learn about tea ceremony and invite non-Japanese teachers to the tea ceremony.
Try flower arrangement! And think about Japanese mentality and introduce it in English.
Computer Technology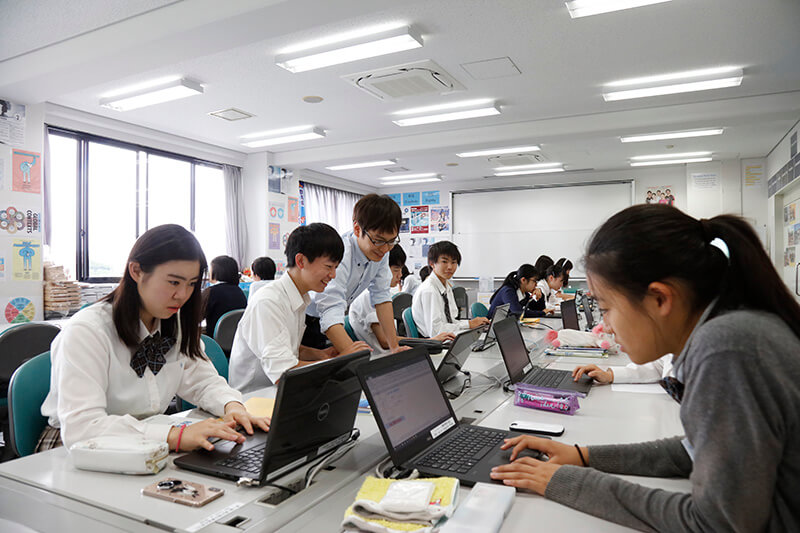 Welcome to GKA's Technology and Information class.
In Technology and Information lessons, students study materials and processing techniques, skills of energy transformation, processes of nurturing vegetation, information technology and information sciences. As a country which leads this rapidly globalizing world of technology creation, students learn about mechanisms and related scientific principles and how the laws of technology are developed and used in society and in daily life. We also foster creative problem- solving through research, analysis, the exchange of ideas and evaluation. Through this approach, students gain knowledge, the ability to think, the ability to make judgment, and the power of expression. Balanced with the ideal of a "zest for living", students can understand a real purpose in "what they study for".
| Unit title | Content (topics, knowledge, skill) |
| --- | --- |
| Material and processing technique | Material which maintains society and processing technique/Solving problems of material and processing technique/ Development of society and processing skills/ Wood processing practicum |
| Energy transformation | Energy transformation technique which sustain society and life/ Solving problems of energy transformation technique/ Development of society and energy transformation technique/ Electronic handicraft practicum |
| Process of nurturing vegetation | Process of nurturing vegetation which sustain society and life/ Solving problems of Process of nurturing vegetation/ Vegetation practicum |
| Information technology | Information technique which maintain society and life/ Solving problem of interactive contents programming/ Solving problem of measurement and control system programming/ Development of society and information technology/ Computer practicum (variable, formula and operator, processing for each situation, repeating) |
| Information science | Computer and telecommunication network/ Solving problem and utilization of computer/Managing information and solving problem/Development of information technology and information ethics/Computer practicum (Robot programming, a function, pointer, array) |