Special Educational Zone
Until the Realization of Ota English Special Structural Reform Zone
Summary of the vision

Having received the decision by the cabinet council regarding the implementation of Special Structural Reform Zone proposed by the former Prime Minister, Mr. Koizumi in June, 2002, the Division of General Policies in Project Department (the Division of Project and Policies today) started selecting the proposed visions of the Special Zone.

Eventually, Ota city decided to promote Foreign Language Special Educational Zone and Land Transportation Special Zone, and then embarked on the summarization of the vision statement.

(Background of the vision of Foreign Language Special Educational Zone)

The foreign-affiliated companies in Ota city strongly feel the need of English.
The problems concerning the education in the public schools. The obstacles in English language subject. Ota city contributes its energy to education such as Sports School, Art School and Education Assistance group.

Submission of the 1st proposal (deadline: the end of August, 2002)

Ota city submitted Cabinet Office the proposals of Foreign Language Special Educational Zone and Land Transportation Special Zone. The Total of 426 visions in 249 groups have been submitted from all over Japan.

(The essential points of the proposal of Foreign Language Special Educational Zone)

To establish educational continuity from the elementary school to the high school by private vitality.
To implement English Immersion Education instructing the general subjects in English other than Japanese language arts.
English speaking teachers conduct classes as a homeroom teacher using the English version of the censored textbooks.

Plotting the program in order to promote the Special Structural Reform Zone (October, 2002)

The Special Zone Promotion office of the government and the government agencies held a council several times based on the nationwide proposals, and showed the total of 80 items as preferential measures that can be implemented at Special Structural Reform Zones. Also 107 items were indicated as the matters of regulation reform including the time and the content.

(Rights and Wrongs of Preferential Measures regarding the proposal from Ota city)

Deliberation is needed with regard to adding the educational continuity from the elementary school to the high school to the range of the meaning of the school.
"Project of Placing Research and Development School of Special Structural Reform Zone" has been established in the preferential measures of Special Zone. The 12-year educational continuity, smooth cooperation with the curriculum, resilience of curriculum, free setting of the subjects, and resilience of the curriculum guidelines had been approved and the proposals from Ota city have been basically realized.
The current law allows English speaking teachers to teach subjects as a homeroom teacher.

Submission of the 2nd proposal (deadline: January 15th, 2003)

Resubmitted the proposal with regard to the insufficient contents from the preferential measures that had been indicated after the 1st proposal.

(The essential points of the 2nd proposal)

To add the 12-year educational continuity to the "meaning of the schools" of the 1st article in the school education law.
To enable a business corporation or a non-profit organization to be a main body of the school setting.
To provide the head of an authorized municipality with the authority of licensing.
To permit to utilize the English textbooks.
To receive the application of the subsidy for private schools.

Rights and Wrongs of the content in the 2nd proposal of Ota city

A business corporation or a non-profit organization can be the main body of the school setting. 
The authority of licensing is the prefectural governor.
The authority of licensing is the prefectural governor.
Various curriculum can be planned including the 12-year educational continuity, and the utilization of English textbooks not following the curriculum guidelines under the "System of Research and Development in Special Structural Reform Zone".
The subsidy for private schools is applicable as long as it is an educational foundation.

Submitted the application form of Special Structural Reform Zone (April 1st, 2003)

To receive the application of "Project of Placing Research and Development in Special Structural Reform Zone". Special Zone Promotion Section was created in the Division of General Policies.

Certificate has been conferred as the 1st Special Structural Reform Zone

The Preparation Office of Founding an English Special Educational Zone has been newly established.(September 1st, 2003)

The prefectural governor assigned the authority of licensing to the Ota city mayor (October 7th, 2003)

The assignation of the authority of licensing to the head of municipality in the Special Zone has been realized regarding the authorization to establish the Special Zone School that had been proposed at the 2nd proposal.

The Preparation Committee for Establishment of Educational Foundation of Ota Kokusai Gakuen has been established. (November 1st, 2003)

The committee is the organization before the current Educational Foundation of Ota Kokusai Gakuen and became the main body for preparing for the new school foundation. It undertook the basic design of the school buildings.

The appointment has been announced to the expected teachers including Mr. Eugene Cooper (the expected principal at this moment). (April 1st, 2004)
Pre-school opened (April 6th, 2004)
The construction of the school buildings has been undertaken. (April, 2004)
The Ota city mayor approved the foundation and the establishment of Educational Foundation of Ota Kokusai Gakuen based on the report by the Private School Deliberative Council.(April 6th, 2004)
The construction of the school building has been completed. (at the end of February, 2005)

Gunma Kokusai Academy elementary school started (April 6th, 2005)

1st term students: 1st grade 107    4th grade 59
2nd term students: 1st grade 101    4th grade 40 (April 6th, 2006)
3rd term students: 1st grade 106    4th grade 36 (April 6th, 2007)
4th term students: 1st grade 108    (April 8th, 2008)
5th term students: 1st grade 106    (April 6th, 2009)
6th term students: 1st grade 107    (April 6th, 2010)
7th term students: 1st grade 100    (April 11th, 2011)
8th term students:1st garde 106    (April 6th, 2012)
The total elementary school students: 626 (as of April 6th)
Elementary School Targets
Teresita-Salve Tubianosa, PhD,
Principal,Elementary School Gunma Kokusai Academy
Class Hours
Subjects
Elementary
Class hours
by subjects
Language of Instruction
Grade1
Grade2
Grade3
Grade4
Grade5
Grade6
Yearly Classes (Week)
Total
Japanese
Language Arts
324
(9.0)
324
(9.0)
252
(7.0)
252
(7.0)
180
(5.0)
180
(5.0)
1,512
Japanese
Social Studies
ー
ー
72
(2.0)
90
(2.5)
108
(3.0)
108
(3.0)
378
Japanese
Math
144
(4.0)
180
(5.0)
180
(5.0)
180
(5.0)
180
(5.0)
180
(5.0)
1,044
English
Science
ー
ー
90 (2.5)
108 (3.0)
108 (3.0)
108 (3.0)
414
English
Life Science
72
(2.0)
72
(2.0)
ー
ー
ー
ー
144
English
Music
72
(2.0)
72
(2.0)
72
(2.0)
72
(2.0)
72
(2.0)
72
(2.0)
432
English
Arts
 36
(1.0)
36
(1.0)
36
(1.0)
36
(1.0)
36
(1.0)
36
(1.0)
216
English
Home Economics
ー
ー
ー
ー
54
(1.5)
54
(1.5)
108
Japanese
Physical Education
108
(3.0)
108
(3.0)
108
(3.0)
108
(3.0)
90
(2.5)
90
(2.5)
612
English
English Language Arts
ー
ー
ー
ー
70
(2.0)
70
(2.0)
144
English
Morals
 36
(1.0)
 36
(1.0)
 36
(1.0)
 36
(1.0)
 36
(1.0)
 36
(1.0)
216
Japanese/English
Special Activities
 36
(1.0)
 36
(1.0)
 36
(1.0)
 54
(1.5)
 72
(2.0)
72
(2.0)
306
Japanese/English
Computer
ー
ー
 18
(0.5)
 36
(1.0)
 36
(1.0)
 36
(1.0)
126
English
English Language Arts
288
(8.0)
252
(7.0)
252
(7.0)
180
(5.0)
108
(3.0)
108
(3.0)
1,188
English
Integrated Study
ー
ー
0
(1.0)
0
(1.0)
0
(1.0)
0
(1.0)
0
 
Arts in English Language Arts
【34】
【34】
【24】
【24】
【14】
【14】
【144】
English
Class hours by grade
1,116 (31.0)
1,116 (31.0)
1,152 (32.0)
1,152 (32.0)
1,152 (32.0)
1,152 (32.0)
6,840
 
Class hours over the required Japanese curriculum standard
+266
+206
+172
+137
+137
+137
 
 
Percentage of English instruction at GKA
67%
70%
71%
71%
72%
72%
 
 
Notes
1 class period in this chart is 45 minutes
Numbers in "( ) grouping" are school hours per week (Calculated 35 weeks a year on a five-day per week)
Similar to English Language Arts (ELA), Life Science/Science, Art, and Home Economics utilizes wide-ranging teaching/learning strategies.
Club activities focus on the appreciation of the Japanese culture, global understanding, meaningful use of information,protecting the environment, welfare and health.
Computer skills are integrated with ELA classes from Grades 1 to 3.
Instruction time (in hours) for 6 years in GKA elementary school:
a) English Language Arts: 6, 822 b) Japanese Language Arts: 1,512 c) Social Studies: 4, 932
Instruction time for 6 years in public elementary schools:210
GKA yearly class hours compared to public elementary school
|   | Grade1 | Grade2 | Grade3 | Grade4 | Grade5 | Grade6 | Total |
| --- | --- | --- | --- | --- | --- | --- | --- |
| Public Elementary School | 850 | 910 | 945 | 980 | 980 | 980 | 5,645 |
| GKA | 1,116 | 1,116 | 1,134 | 1,152 | 1,152 | 1,152 | 6,822 |
Open Education
When you hear the term "open education," what comes to mind is "open classroom." This is one of the features of open education. Open education emphasizes how we conceptualize our educational philosophy and what kind of human resources we will cultivate rather than simply looking at the physical aspect of the classroom.
In this context, the word "open" represents an attempt at pursing creativity with a specific goal and creating conditions to maintain an atmosphere of openness that goes beyond the "conventional" style or practice in education.
Philosophy of Open Education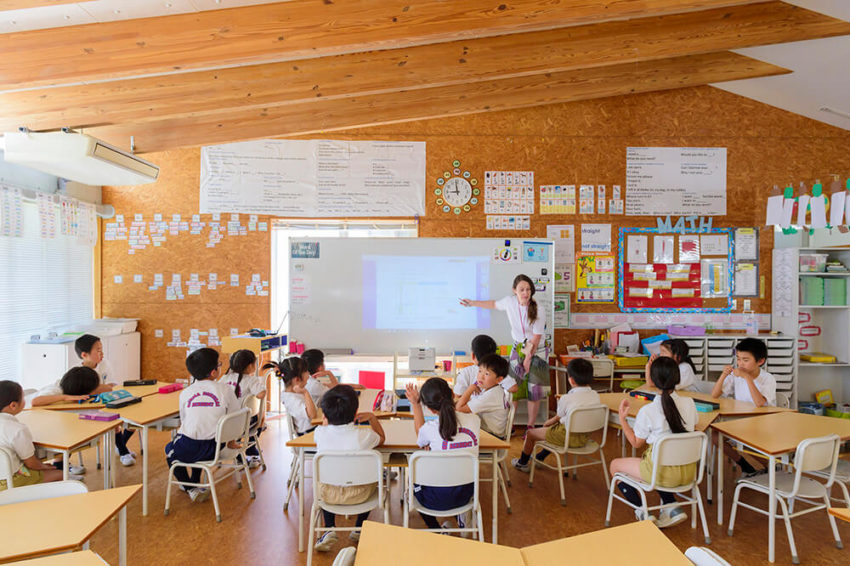 From students who are highly motivated emerges a desire of "I want to know more" or "I want to do more" will likely succeed than those who only politely listen to teacher's chalk and talk lecture. Nurturing students cannot be achieved only with total acceptance of learning. Rather, a self-motivated commitment is required to shape children as a person. Schools should emphasize "Learning rather than teaching." GKA embraces this principle in our educational pursuit.
 "Lessons conducted in a play-way method" are often observed at GKA: for instance in learning how to count or express during Math lessons. Adults can teach words or letters. The number concept, however, is somewhat different from memorizing words or letters. Children can "understand" the concept of "number" by manipulating concrete objects. They learn from their own experience and "discover" that the concept of "5" is always "5" regardless of the size or kind of objects. We believe that encouraging students to actually engage manipulative activities is more effective than the teachers' skillful lecture in helping them to conceptualize "numbers."
Learning Centers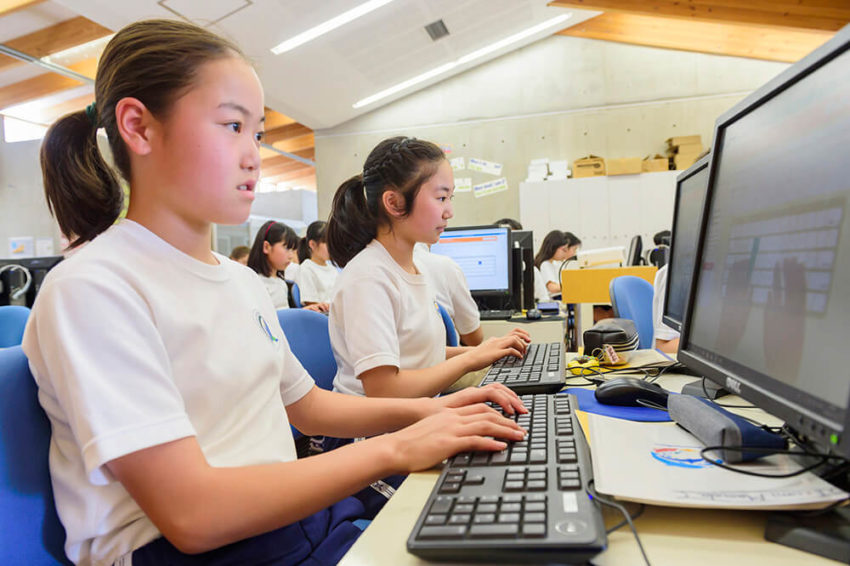 A class is divided into two learning teams English and Japanese language classes. An English-speaking teacher and a Japanese-bilingual teacher handle each group. Learning center is a small-group activity mainly adopted in ELA. The half of the class is further divided into four groups and a teacher gives tasks to each group. In grade 1, for instance, there are four learning centers within the classroom: playing a card game for English vocabulary; reading aloud with a teacher; interactive learning via a computer; working on a worksheet for grammar.
Teachers instruct students go through all the center activities during the class period. In the lower grades, a Japanese teaching assistant assists an English-speaking teacher in classes. Learning centers focus on hands-on activities rather than chalk-and-talk approach.
Movement Between Rooms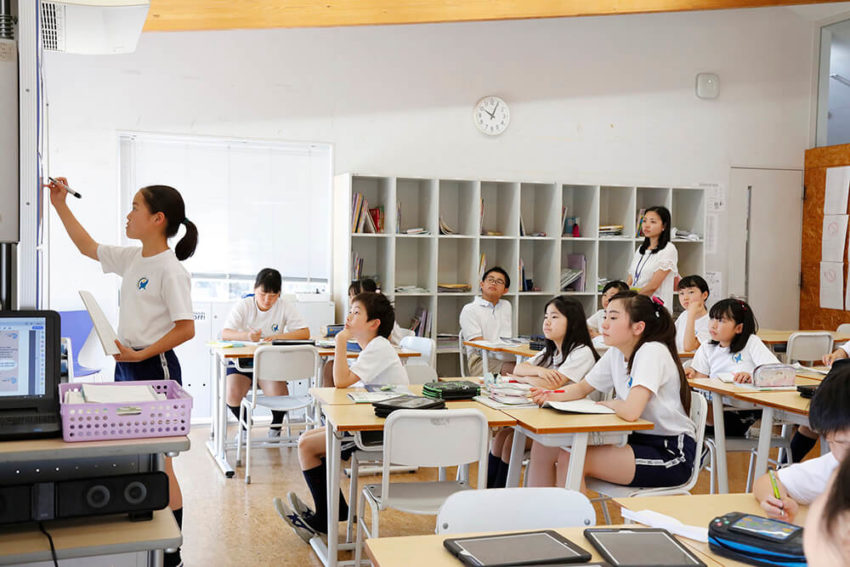 Each class has a big room for homeroom and whole class activities. Split classes use the small rooms. In English, Japanese, music, mathematics social studies and other classes, each class is divided into two groups. Lower grades have lessons in either the big or small room; or the music room. Upper grades move between rooms for certain subjects like university students. GKA students are responsible for their class schedule and moving between rooms without waiting for teachers' instructions. In their daily school life, students are developing their independence.
No School Bell in GKA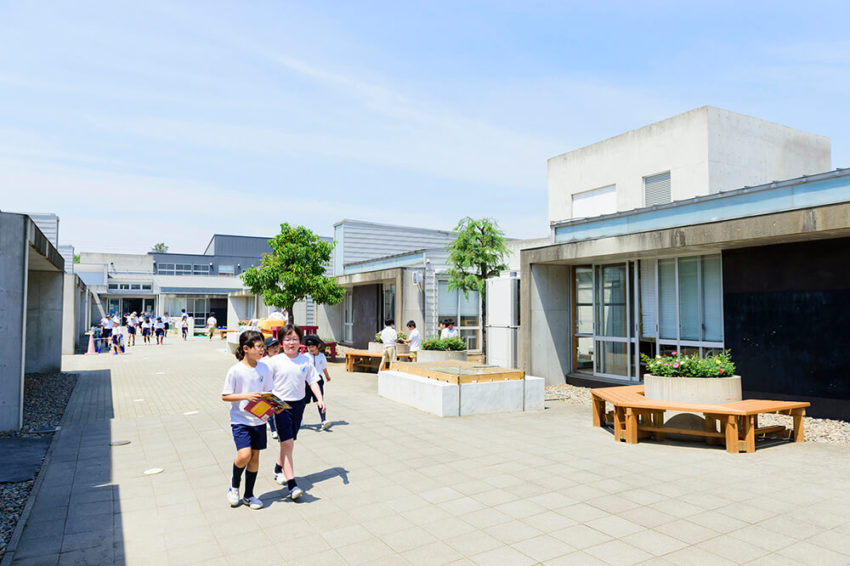 There is no school bell at GKA to encourage students to manage their time and activities then act on their own initiative. When students always act according to someone's instructions or expect someone to take care of them, they tend to develop a sense of failure and dislike, self-hatred, and frustration rather than appreciation. We have many things to teach and impart to students. However, we always remember to honor their ideas before sharing information and telling them what to do. At GKA students learn from actually tackling and experiencing problems on their own. Dealing on challenging problems enable students to acquire self-reliance and willingness, clearly define "what they want to do" and express their own opinion in their own words.
Cross-curricular Collaboration
Teachers often design and implement integrated lessons in music and art, JLA and art or English and computer. The first graders, for instance, in music the listen to music played by a music teacher, in class, they draw patterns to express their imagination after listening to music, then the art teacher put together all their work in a big mural. Grade 3 students draw pictures describing the stories they read in JLA which helps them to broaden their creativity. Reading books and analyzing their contents enable students to further their insights and thinking power. Fifth graders read biographies of well-known personalities before writing their own autobiographies. They complete their autobiography booklets by applying their skills of inserting photos and pictures and editing learned in computer classes. The integration of lessons between subjects is an effective method of providing a holistic approach to studying different subjects.
Critical thinking
A Japanese female university professor from New York visited GKA. She has lived a long time in the US to such an extent that she had a foreign accent on her Japanese. We explained, " One of the GKA' s unique features is the education focusing on critical thinking." Her reply, " It is a common practice in any school, isn' t it?" We were speechless being told that the uniqueness we claimed with confidence was something ordinary.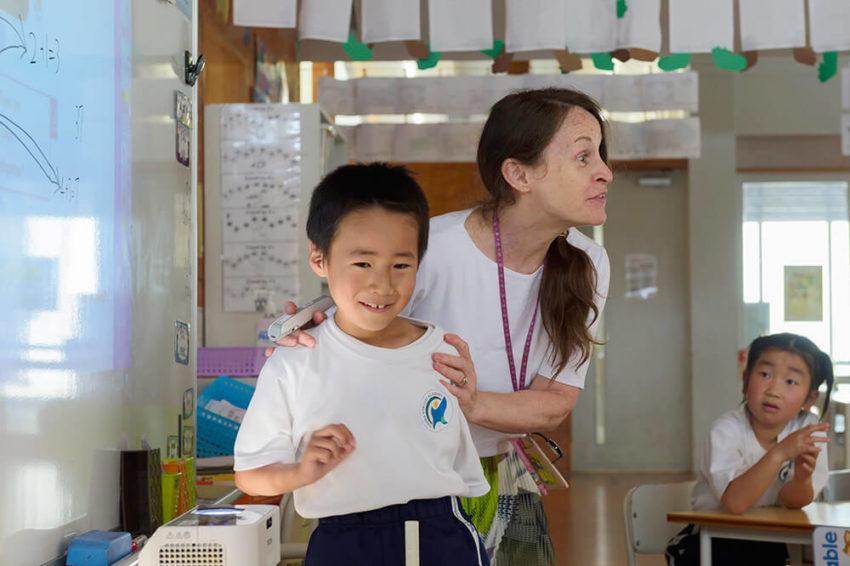 Critical thinking is often translated as " Hihanteki Shiko" in Japanese, literally meaning looking for faults in others. Rather, critical thinking is logical and analytical thinking method where matters are analyzed, judged and communicated accurately without biases. In the thinking process, prerequisites and perceived notions also requires to be fully evaluated. Even authoritative and generally accepted wisdom need to be questioned. It is understandable that critical thinking could not be easily accepted in Japan where traditions place value on collectiveness, organization and hierarchical relationship.
Why does GKA focus on critical thinking?
GKA is in a position where the purpose of education is not just to transmit knowledge but also to cultivate creativity and thinking skills of our students. This aligns with the essence of open education. It goes without saying that abilities and interests of students vary from individual to individual similar to differences in their face forms, heights and sizes. " Learning how to learn" is crucially important in critical thinking being integrated in our curriculum.
GKA levels with the global world. We look at the world full of problems yet having more than one right answer. There exists a wide variety of options for children in the real world where they live.
Critical thinking requires constructive efforts to open new possibilities and find solutions for the seemingly impossible, by seeking evidence and counter-evidence and other possible explanations.
A critical thinker is required expected to adopt an attitude of being disposed to consider in a thoughtful way problems that come within the range of one' s experiences in a fast changing the world.
GKA honors unique individuals with different ideas, and aims to assist students to establish their own identity as " Live and let live." In GKA each students is treated as a single independent person with soul and life. The society should not mold children into ideal. It is natural that opinions differ by age, gender, social status or nationality. Critical thinking is indispensable for cultivating, in students, " understanding differences coupled with the ability to express their individuality."
People may think that the curriculum for nurturing critical thinking skills starts with " show and tell," followed by a discussion of familiar topics in school to gradually advance to speech and debate training in the secondary school. We always place emphasis on critical thinking when we conduct classes in any subject.
Critical thinking should not be simply translated as " Hihanteki Shiko" (looking faults in others). Instead, it should be viewed as " Sozoteki Shiko" (creative thinking).
Knowledge can be acquired even without actually being in school. On the other hand, it is very hard for grown-ups to develop skills in logical thinking and communication that may relatively be easier at a young age. In GKA, we regard " critical thinking" as an essential pillar in our curriculum starting from our primary level.
Team Teaching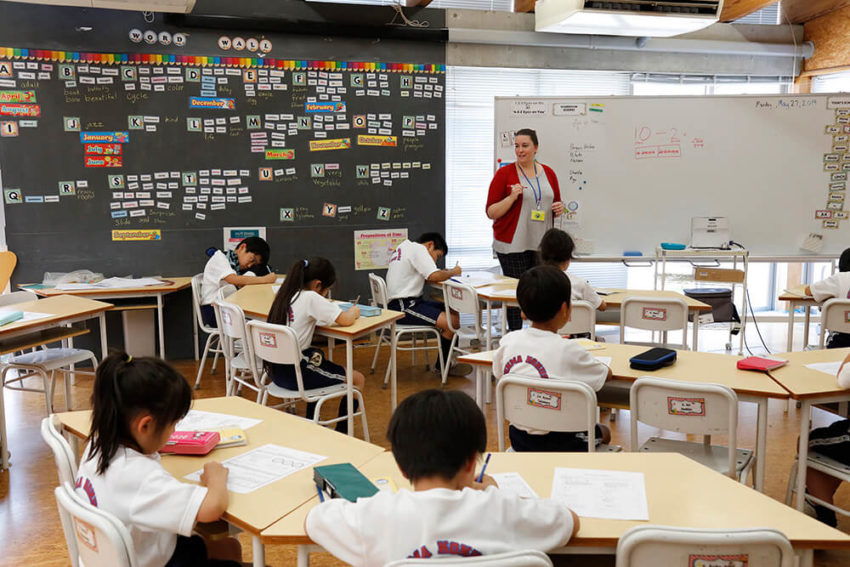 Two homeroom teachers are assigned to each class, an English native and a Japanese native. All English native speaking teachers have a teaching certificate issued in their home countries and they have plenty of teaching experience. Our curriculum for core subjects is generally based on the Course of Study. We use authorized textbooks in Japanese (KOKUGO) and social studies. Translated versions of authorized math textbooks are used and authorized science textbooks are translated by GKA teachers.
Each class is divided into two groups. One group studies English with an English speaking teacher, while the other studies Japanese with a Japanese teacher. The class sometimes is taught by a team; two teachers cooperate in teaching one subject.
Developing students' native language, Japanese, is important. Unless they can establish solid foundation of Japanese proficiency, it is difficult for them to attain high level of critical thinking skills in English. Our immersion education nurtures Japanese language education. Students in even lower grades learn classical Japanese literature and we also place emphasis on Japanese composition.
ICT Education
Computer/Technology represents a new fundamental set of skills which are indispensable in a rapidly evolving global, digital, and information-based society. GKA' s Computer/Technology Learning Standards introduce and develop knowledge and skills encompassing basic operations and concepts, technology productivity tools, technology communications tools, technology research tools, technology problem-solving and decision-making tools, and social, ethical, and human issues pertaining to Computer/Technology. In view of the reality of constant change in technology, Computer/Technology will be taught as a process of acquiring new skills, and ideas that reflect established and emerging applications.
GKA' s learning standards will be characterized by an emphasis on the application of knowledge and skills to activities and experiences relevant of life in and outside the classroom. Reflecting this needs for meaningful learning experience that reflects the students' environment, GKA students will develop Computer/Technology proficiency in both Japanese and English. Moreover, GKA Computer/Technology will be part of an applied curriculum where course material is applied to other subjects such as English Language Arts, Mathematics, and Japanese Language Arts.
Central to the Computer/Technology framework is the concept of fun and enjoyment in the use of technology. Students will have the freedom to use electronic resources for their own interests. Graph and chart programs will allow students to create sophisticated documents, all of which will be available to print for students to take home to their families.
Learning support
Morning Work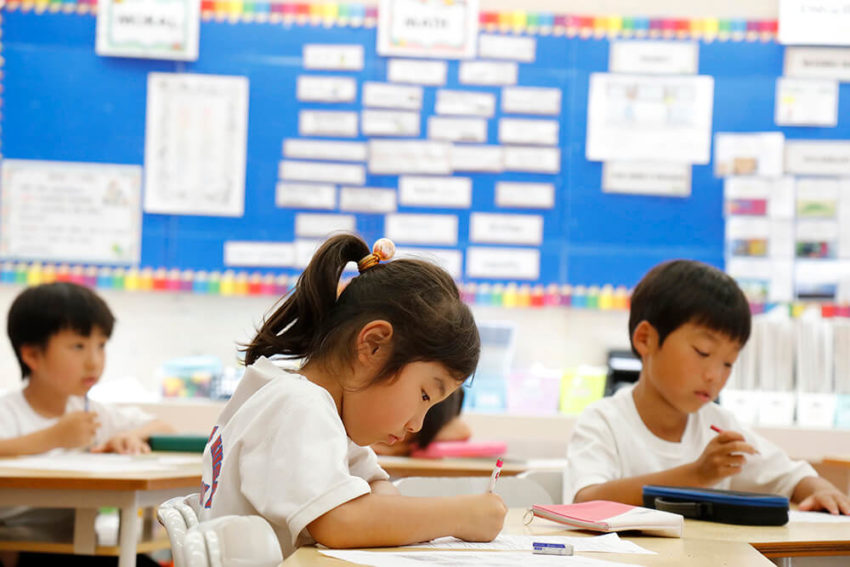 It is important that all our students do their best to learn in both English and Japanese. In order to help this become a reality students have special Morning Work sessions several times a week before morning homeroom. Morning work includes extra mathematics and science worksheets in Japanese, as well as worksheets in English. The days, times, and specific content varies by grade and student need. This additional 10 – 15 minute morning work time helps student mentally and emotionally prepare themselves for the day's learning.
Reading Time
Everyday, except Wednesday, throughout GKA students have a 15 minute reading time after lunch recess/cleaning. Students read or are read books and stories in English and Japanese alternately. This school wide dedication to reading encourages students to seek out and read books and stories on their own while fostering a love of reading.
Extra Help
From time to time even the best student needs or wants additional instruction time to more fully understand a content area. This is where Extra Help comes in. Students who need, or feel they need, more instruction are invited to stay for additional review lessons after school. These lessons are taught to small groups of students allowing for more one-on-one instruction time. While the days and times of Extra Help sessions vary by grade and student need, each grade dedicates Extra Help time to assist all who need or want it.
GUNMA KOKUSAI ACADEMY SPECIAL EDUCATION POLICY
All students at Gunma Kokusai Academy will have equitable access to support, supervision and learning opportunities to enable them to achieve excellence in all aspects of their academic programme and personal development.
Pursuant to this policy, GKA promotes an inclusive education system. It does, however, maintain the right to ascertain whether a student has, or is suspected of having, an impairment or disability causal to an inability to progress in a fully integrated education setting. As part of the application procedure, parents and guardians will be asked to complete and sign a questionnaire pertaining to such matters. If a description of factors that inhibit or assist the student in making effective progress is insufficiently comprehensive, GKA reserves the authority to request specialist assessment.
A positive assessment does not necessarily preclude enrollment or eligibility for continuing attendance. If a student is identified through an accurate diagnosis by a specialist as a 'Special Needs Student', i.e., has a developmental delay or disability, a specific learning disability, or an impairment (intellectual, sensory, emotional, physical or emotional) that prevents or limits their academic progress, GKA may decide to confer with all stakeholders and available trained experts to develop an Individual Education Plan (IEP) for the student in question. This will describe the educational plan designed to meet the unique needs of that child.
As a private school with limited resources, though, GKA does not have the responsibility or capability to provide a suitable educational experience for all students. Only low-level interventions can be provided. For example, necessary accommodations can be made for students with mild learning differences in ESL, reading and mathematics. GKA will adjudge each student on individual merit and determine whether it can meet the needs of that student and provide the assistance that is necessary for him/her to make effective progress.
GKA is committed to protecting the privacy of all its students. It will act with utmost discretion at all times; keep parents and guardians fully informed; and treat every student with the same level of respect.
VERTICAL INTEGRATION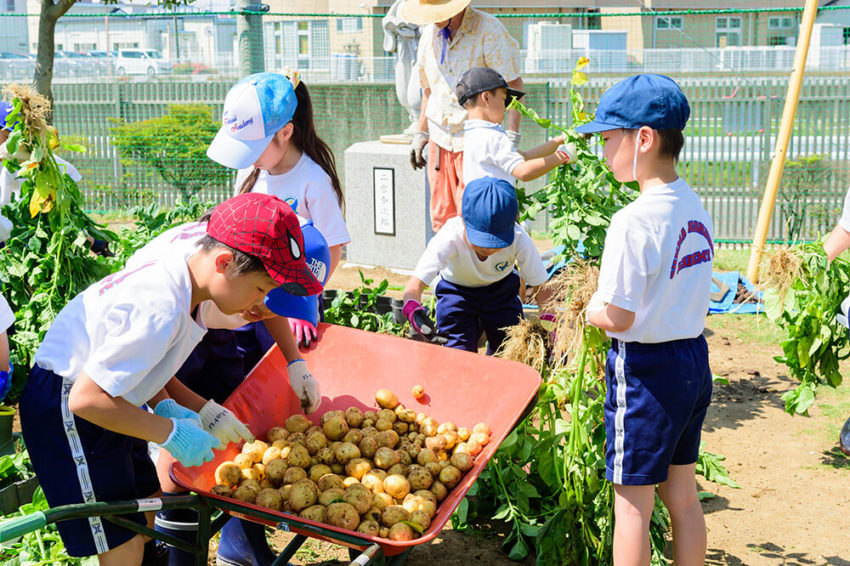 In April 2016, we re-organized the neighborhoods into mixed "villages:" Grades 1 and 4 Village, Grades 2 and 5 Village, and Grades 3 and 6 Village. Research reports informed and guided our planning process.
The overarching goal in establishing "VILLAGES" is to create communities that serve as landscapes where older students practice their caring and leadership skills to eventually impact on their self-regulatory behaviors.
The psychological benefits for each student cannot be ignored – the development of their self-esteem and empathy; less social isolation and aggressive behavior; and more positive values, attitudes, and conduct.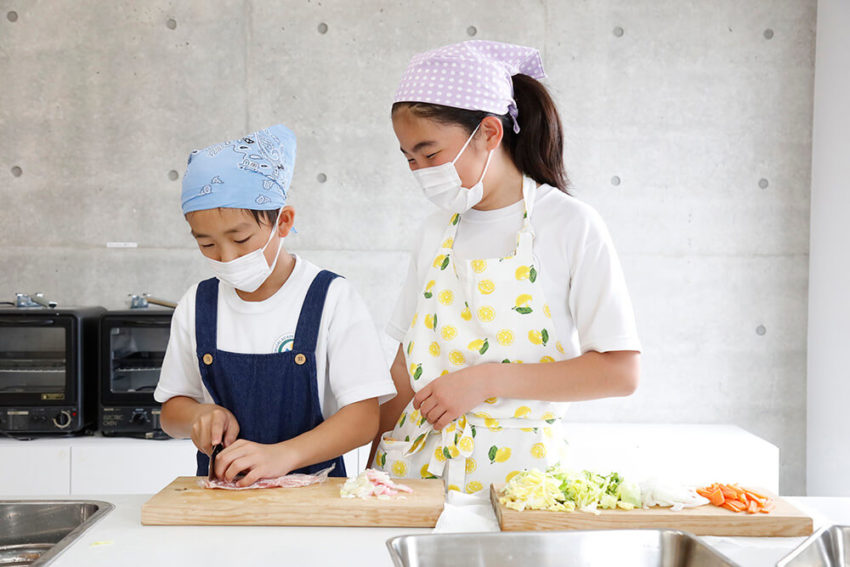 Each of the villages functions as communities having a natural cycle of six years. Students stay with the same group of students where they will grow and flourish in the context of close and dependable relationships.
The first village excursions are scheduled in May as a bonding experience for the students as well as an introduction to 'leadership' for the 4 th grade students. There are events throughout the year that twin classes do together, namely, lunch and play activities; Tanabata and Setsubun; and the Thankfulness and Farewell lunch.