English Language Arts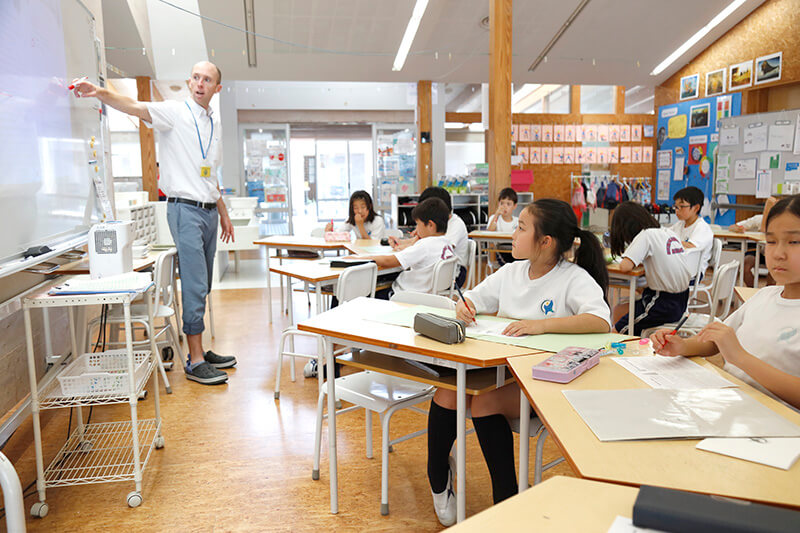 In our English classes, we focus on helping children to learn meaningful language through participation in reading, writing, speaking and listening activities. Students are encouraged to not only learn grammatical functions of the English language, but also to learn to speak conversationally and read for comprehension and enjoyment.
Teachers scaffold students' learning through an American-based curriculum and the Oxford International textbooks supplemented with hands-on activities and projects designed for their skill levels. Teachers and students also make use of technology in the classroom to enhance learning. Our teachers strive to support all levels of learning and increase each student's individual language ability.
Japanese Language Arts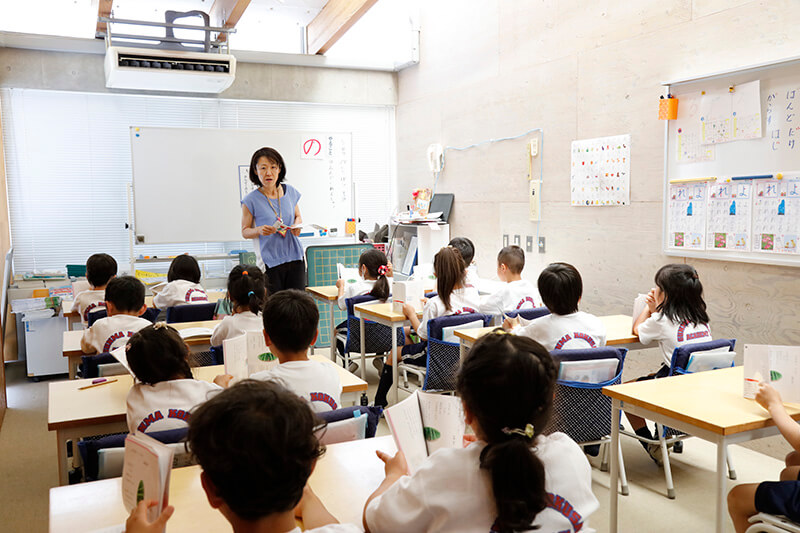 Not only English but Japanese is also the pillar of education in GKA. It is essential for children living in Japan to strengthen the foundation of Japanese language as their mother tongue. We also believe that abilities to think and express their thoughts and opinions logically in both languages are indispensable factors to display their leadership in the international arena.
We adopt project-based learning where a process of learning is emphasized in lessons. Through various language activities including presentations (recitation, play, poster-session, speech, news report program), interaction (class/small group discussion), and creating works (writing a story, essay, newspaper article, encyclopedia, brochure, haiku, tanka (Japanese oldest form of poetry), poem) students develop abilities to think on their own and express themselves.
Math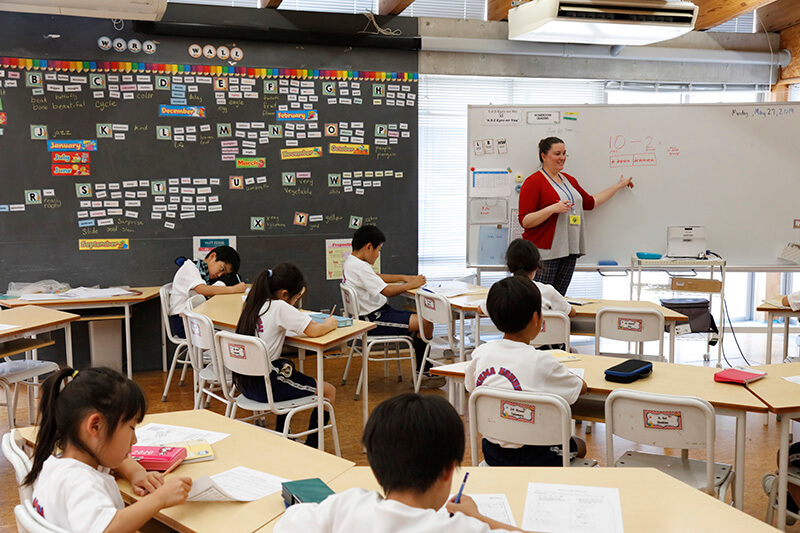 In math, the medium of instruction is English. Along with the English version of textbooks approved by MEXT, we use English references and several teaching aids published or created in English. Each lesson is enriched and expanded to cater to the specific needs of learners. Concepts are presented and conducted in an experiential way (hands-on
activities) to develop students' critical thinking skills. This goal is achieved through individual, group activities, and the application of varied problem solving strategies, discovery approaches and use of technology.
Science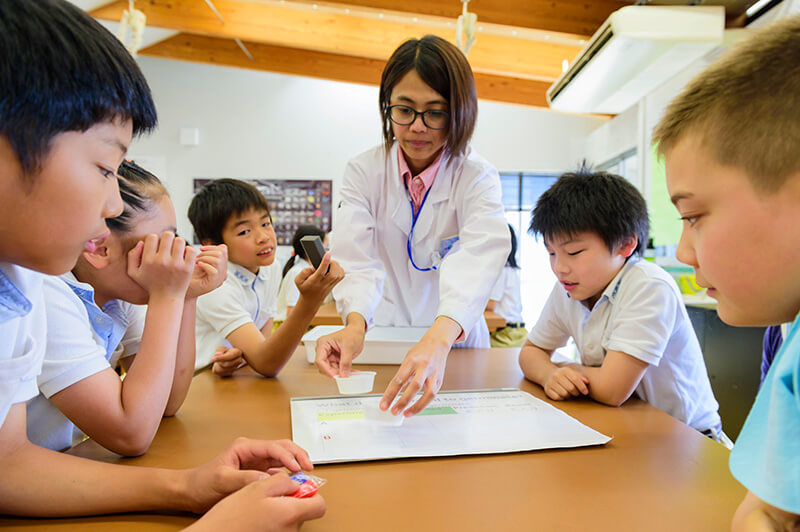 GKA science program nurtures curiosity and a sense of wonder to learn concepts through the process skills. The students are provided with opportunities to explore the world around them scientifically by applying these skills. Our science program gives a special emphasis on hands-on and minds-on learning to enhance their critical thinking and creativity. Their knowledge is further enriched through research projects, working models that they design, presentations, and post-presentation discussions.
To foster a positive attitude towards science and apply of concepts learned beyond the classroom learning we organize a science fair every year where all of the students present science projects to judges and friends. We aim for an all-round scientific literacy for our students.
Art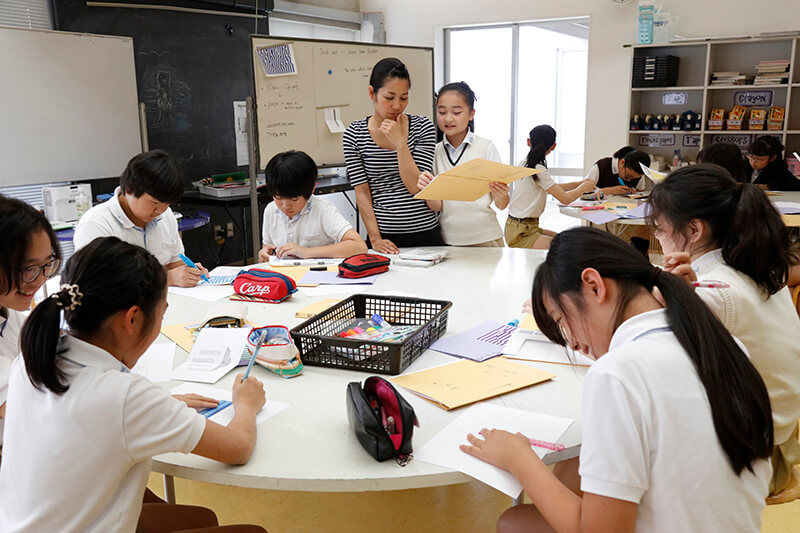 Some visitors ask us why our students' artworks are so unique and original. Our response: "It is because all students are artists. Students share the same contents and skills in class, but our priority is on their thinking outside the box that triggers their imagination to create original artwork. Students' unique pieces of art created at the time of their development emerge from a series of trial and error." The GKA art room is teeming with creative energy where all types of artistic elements interact with each other, one after another, bringing life to the new artwork.
Music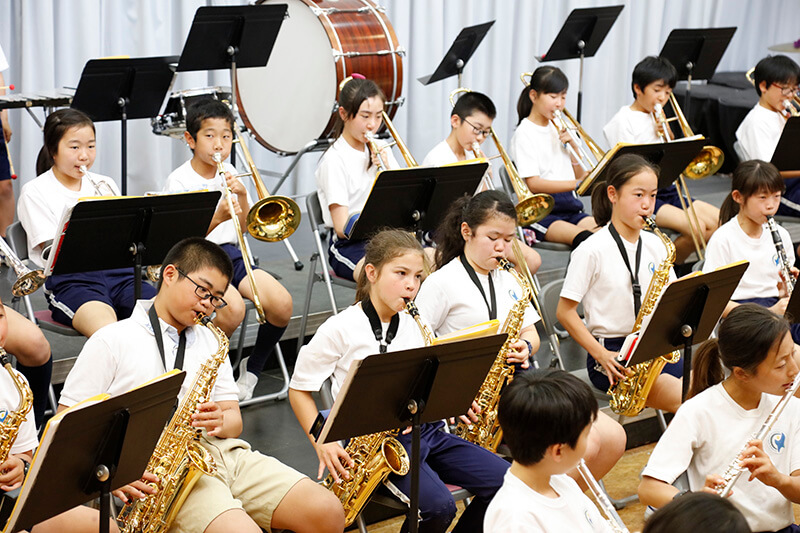 One of the most unique features of GK A is its music curriculum. Students study music from Grade 1 to high school using the "Jump Right In" program. Students learn to read, write, and improvise music in much the same way as they do with language, a process that reinforces their creativity in other disciplines. In Grade 5, all students learn to play wind or percussion instruments. Grade 6 students are given the opportunity to join the GKA Band which holds
performances in school and other venues.
Physical Education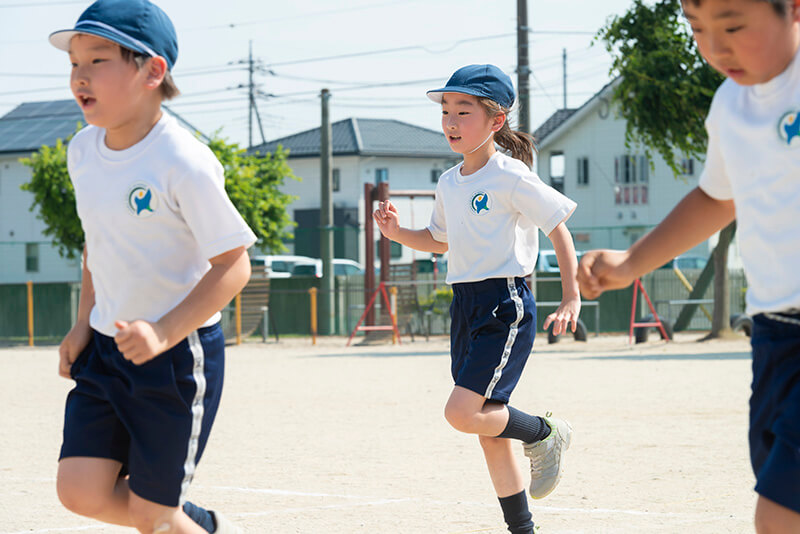 While P.E. is based on the Japanese curriculum, lessons are taught in English. Its aim is to help students learn to participate proactively in daily events and not simply for the students' enjoyment of physical exercises and playing sports. P.E. plays an important role in developing students' social skills necessary to become responsible Japanese citizens. Our students learn to observe group rules, the spirit of fair play, and teamwork. There are internationally-inspired sport events such as Sports Day. "The Haka", a traditional war dance popularized by New Zealand national rugby teams, is taught by upper grade students to lower grade students. All students put on an impressive performance during Sports Day.
Social Studies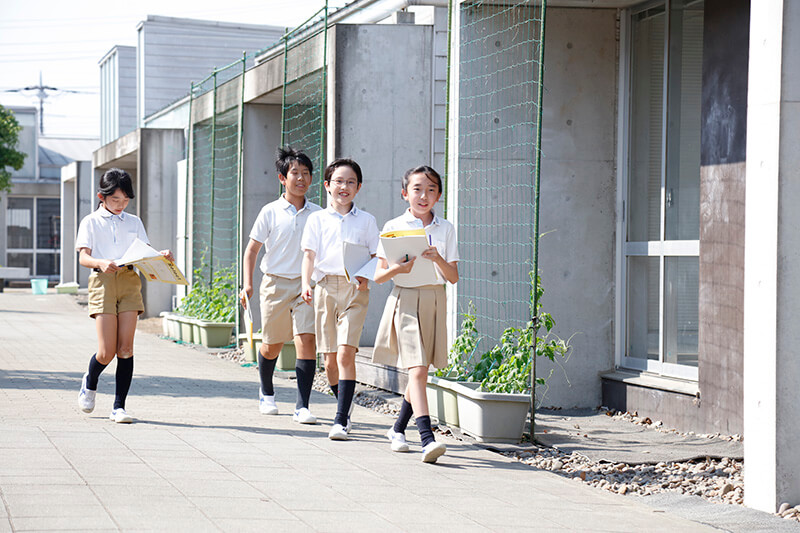 Rather than just focusing on the acquisition of knowledge, social studies classes in GKA are designed to allow students to broaden their perspectives and nurture an awareness of their own ideas concerning issues in their immediate surroundings, as well as in society in general.
We strive to nurture a child's sense of curiosity, self-motivation, and an attitude leading to proactive learning. We do this in class, adopting a process of inquiry, prediction making, verification, deepening of understanding and conclusion formation.
Our social studies classes extend the field of learning beyond the classroom by actively incorporating experimental learning in many ways, such as planting rice in a paddy field on the school premises and visiting local factories and historical heritage sites.
Home Economics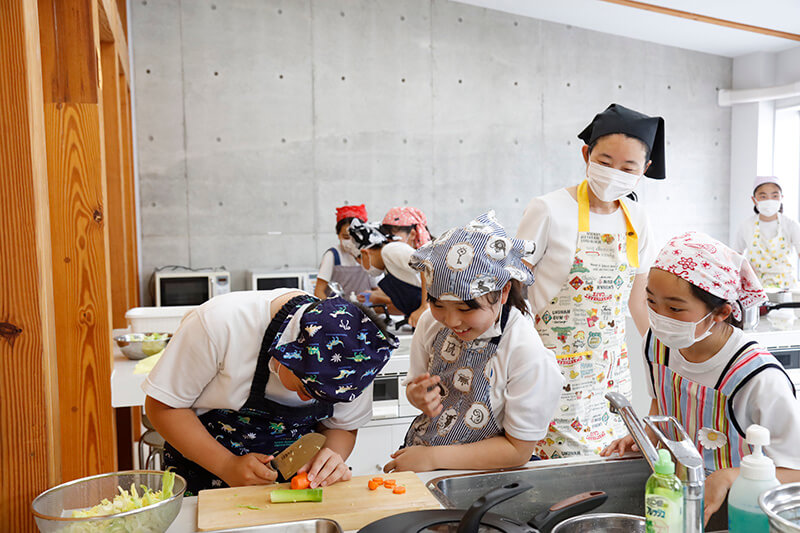 GKA adopts an experience-oriented approach for teaching home economics. Students spend as much time as possible in practical activities. Lessons cover a wide range of useful topics associated with their real-life situations such as cooking, basic sewing, washing, cleaning, healthy living, and smart shopping.
The home economics class covers contents connected with other subjects and school events.For instance, when our fifth grade students covered a topic about rice in their social studies class, they learned about rice through hands-on activities from planting seedlings to cooking the harvested rice. During their study trip to Australia, sixth grade students were given opportunities to introduce Japanese food to their host families.
Computer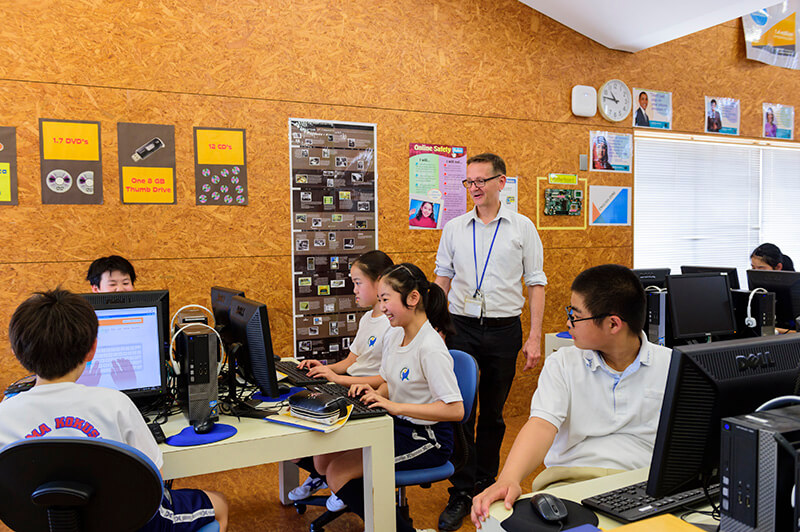 In adopting to the positive trends of technology in education, GKA's principal aim is to enhance instruction and learning. GKA not only develops digital literacy but places strong emphasis on the important life-long skills of digital citizenship.
The use of technology in our classrooms supports learning and introduces new ways of learning and teaching that cater to students' unique learning needs. With instant access to knowledge, students are given the guidance to find the best and safest sources while at the same time refining their vocabulary, analytical and decision-making skills.
The students have the opportunity to learn through different digital tools to improve engagement, increase peer collaboration, encourage personalized learning and learn about life skills while developing critical thinking, independent research and cross-technical fluency.
Technology in the classroom never replaces the teacher. GKA's focus is not about learning MORE but rather about learning BETTER.
Flexibility and adaptability are essential parts of the 21st century workplace. Students will leave GKA both comfortable and confident with technology allowing them to seamlessly adapt to our ever changing world.
Morals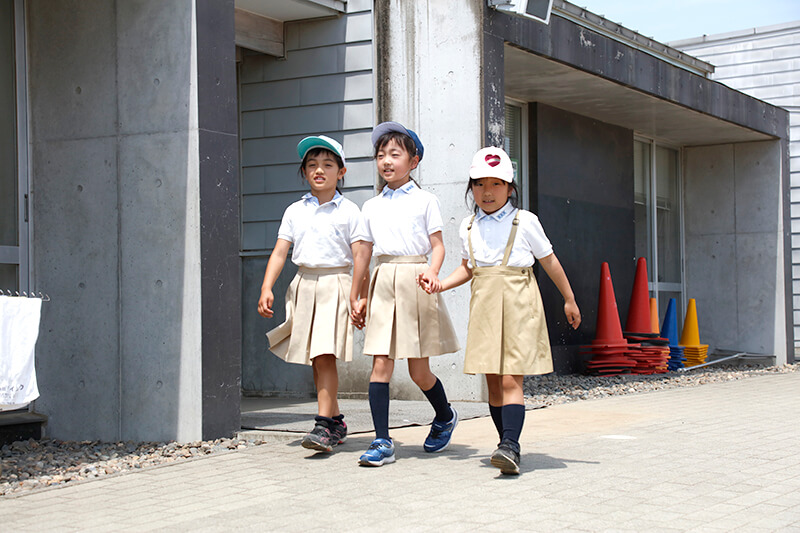 Morals education at GKA follows the Virtues Project, an internationally acclaimed collaborative program based on the experience of educators throughout the world. It seeks to empower students into creating a positive, respectful environment in which to share our learning. The program is centered on a list of 52 culturally neutral virtues that reflect our international character.
Morals lessons call students to reflect on level appropriate virtues in order to push them to action and instill in them a shared sense of civic responsibility. The assessment is based on the reflection of the virtues and not on the moral behaviour of our students.