6年生バンドは今年度から再開しています! The grade 6 band is back in action this school year!
Covid-19の影響で2年間お休みしていたGKA小学校のバンドは、昨年の9月から再開しています。
今年の6年生の参加者は、パンデミック以前のバンドに比べれば3分の1の人数です。
しかし、子ども達が皆、非常に主体的に取り組んでいるので、2人の担当教員も子ども達と一緒に音楽を作ることを楽しんでいます。
The GKA Elementary School band, which took a two-year break due to Covid-19, has been back in action since last September.
This year's group of 6th graders is ⅓ the size of bands from previous years before the pandemic.
However, the students are all excited and dedicated so the 2 band teachers feel very grateful and are having fun making music with them.
<Video>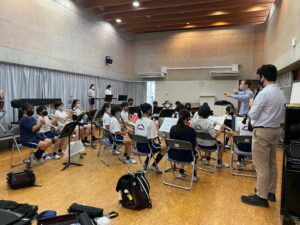 <Photos>