キャリア甲子園準決勝報告/Career Koshien Semi-finals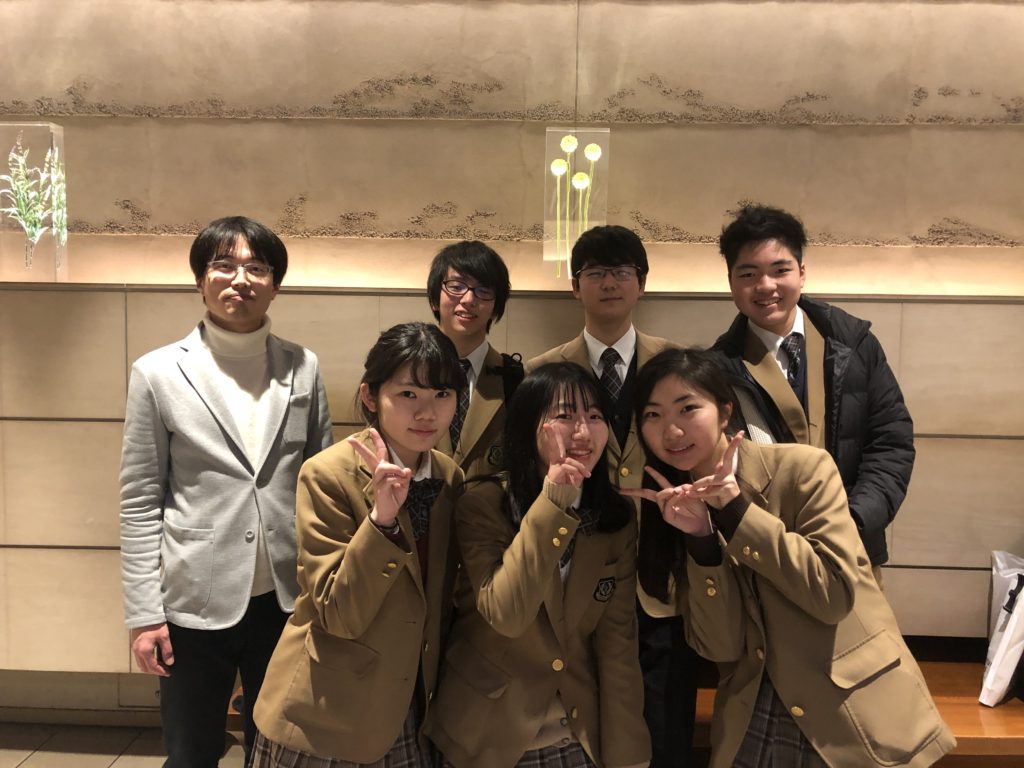 2月16日(日)に、行われたキャリア甲子園準決勝に、本校から2チームが出場しました。
Two teams from GKA participated in the Career Koshien Semi-finals on Sunday, February 16.
マイナビが主催するキャリア甲子園は、本年度1090チームが参加する国内最大規模の高校生向けビジネスプランコンテストです。
Career Koshien is one of the largest business plan contests for high school students in Japan, 1090 teams has participated this year.
http://careerkoshien.mycampus.jp/
本校では現代社会の授業で10年生が参加しました。書類審査、動画審査を経て、2チームが準決勝に進出し、企業の審査員の前で、自分たちの企画を発表しました。
From GKA, 10th grade students participated in the contest as a part of contemporary social studies classes. After the document screening and the video screening, two of GKA teams advanced to the semi-finals and presented their plans in front of the judges from the companies .
残念ながら2チームとも決勝進出を果たすことはできませんでしたが、どちらも企業からの高い評価を得ることができました。
Unfortunately, both teams failed to advance to the finals, but both received high praises from the judges.
生徒たちはGKAで磨いたクリティカルでクリエイティブな思考の成果を発揮してくれました。
The students demonstrated the results of critical and creative thinking skills acquired at GKA.
発表の様子は以下のビデオをご覧ください。
Please watch the presentation videos below.
チーム名:パンダ
メンバー:小板橋瑛斗/青山柊太朗/片山大河
選択企業:東京電力
課題:毎日の生活が楽しくなる、インフラを使ったイノベーティブなサービスを普及させよ
生徒からの提案概要紹介:電力とフィットネスを結びつけた新しいサービスを立案しました。運動をしたいという思いはあるが、実際に運動していない人々をターゲットに、軽い運動を促進します。
Team: Panda
Member: Koitabashi Akito / Aoyama Shutaro / Katayama Taiga
Company: TEPCO (Tokyo Electric Power Company)
Theme: Popularize an innovative service that makes everyday life fun using infrastructures
Proposing Plan:
We proposed a service to promote fitness for people who want to be active, but not doing them in reality. We made it possible by combining infrastructure of electricity and fitness.
チーム名:ハム
メンバー:宇澤知里/平間琉愛/髙井まひろ
選択企業:資生堂
課題:資生堂が持つ資産を活用して、社会課題に応える商品・サービスを提案せよ
生徒からの提案概要紹介 :私たちが提案したのは、資生堂が目指すグローバルカンパニーに近くため、資生堂の資産を活用した、世界中の人がいつでもどこでも自分の肌色、肌質、肌悩みに合わせたオーダーメイドファンデーションがカスタマイズできるアプリです。世界中の肌の悩みを抱えた女性たちを救いたいという思いで提案させていただきました。
Team: Ham
Member: Uzawa Chiri / Hirama Rua / Takai Mahiro
Company: SHISEIDO
Theme: Propose products or services that solve social issues utilizing SHISEIDO's assets
Proposing Plan:
We proposed an app that uses Shiseido's assets, so that people from all over the world can customize their own foundation that match their skin color, skin quality, and skin problems. By using the app, people in all over the world can make it anytime, anywhere, and Shiseido can become a global company that they aim for. We made this plan to save all women in the world who have skin problems.