音楽:曲の構成を学ぶ  Music: Learning how to construct songs.
子どもたちは、iPadと新しく配布されたChromebookを使って、人気曲の構成を説明したウェブサイトを使って学習しています。
このウェブサイトは、曲をドラム、コード、ベース、メロディの4つのパートに分解しています。
児童たちは、それぞれのパートを個別に調べてから、それらを組み合わせて自分の曲を作ることができます。
新しい語彙(「音調」「三和音」「音階」など)やコードの組み立て方、ヒップホップやポップス、エレクトロニックミュージックなどで人気の「フィンガードラミング」の使い方まで学んでいます。
こちらのホームページ(左上にメニューがあり、ページの下までスクロールすると日本語でアクセスできます)からお試しいただけます。
https://learningmusic.ableton.com/
Students have been using the iPads and the newly-acquired Chromebooks to try a website that explains how to construct a popular song.
It breaks down a song into 4 parts: drums, chords, bass and melody.
The students can explore each part individually before combining them to create their own song.
Students have learned new vocabulary ("pitch", "triad" "scale", etc.), learned how to construct chords, and even how to use "finger drumming", which is popular in styles such as hip hop, pop, and electronic music.
You can try to the website here (the menu is found in the upper left corner, and it can be accessed in Japanese by scrolling to the bottom of the page):
https://learningmusic.ableton.com/
<↓ 動画:是非クリックしてみて下さい。↓>
<↓ Video: Please click the following video. ↓)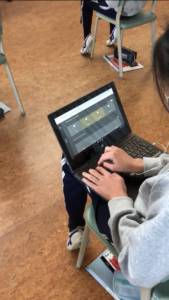 <授業風景の写真 Pictures of Music classes>