3年生 体育:ハンドボールゲーム(責任ある行動をとること) Grade 3, PE: Handball Game (Being Responsible)
3年生は、体育の授業でとても楽しくハンドボールゲームに取り組みました。
一人一人がベストを尽くして、パスをしたり、キャッチをしたり、ボールをチームメイトに投げたり。
みんなが相手のゴールにシュートしたがっていました。
また、他のチームのアタッカーとしても活躍しました。
試合終了後、子ども達は疲れているはずなのに、ゼッケンをきちんとたたんで、バスケットに戻していました。
自分たちで責任ある行動がよく分かっています。さすが、3年生!
Grade 3 students were overjoyed to play handball in their P.E. class.
Each member gave their best effort to pass, catch and throw the ball to their teammates.
Everyone wanted to shoot the ball into the opponent's goal.
They also played as nice attackers to another team.
The students must have been tired at the end of the game, but they knew their responsibilities.
They still managed to fold the jersey shirts properly and put them back in the basket.
You're on the right track, 3rd graders!
<動画:子ども達がハンドボールゲームをする様子>
<Video: Students are playinging handball.>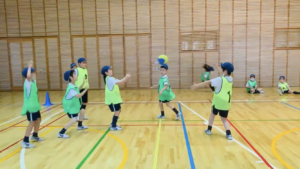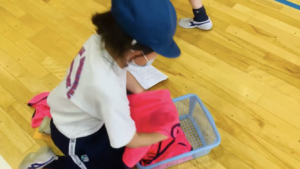 <写真><Picture>