5年生 社会:校庭の田んぼ Grade 5, Social Studies: Rice Field
五年生は毎年、社会科の授業の一環で、校庭の田んぼでお米を育てています。
5月に田植えを行い、稲はすくすく育っています。
実際に児童が自ら農作業を経験することで、農家の人の苦労や、普段食べているお米へのありがたみを学ぶことができます。
秋になると稲刈り、脱穀をします。
できたお米は家庭科の授業でお米の炊き方を学ぶので、自分たちで調理して食べる予定です。
Sometime in May every year, grade 5 students get to experience planting rice at school.
This was done as part of their social studies lesson under the topic – Japanese Agriculture.
By doing this, the students not only learn about Japanese agriculture, they also discover the hardship involved in growing rice.
Later, they will also harvest, cook, and enjoy eating the rice they planted.
<September / 9月>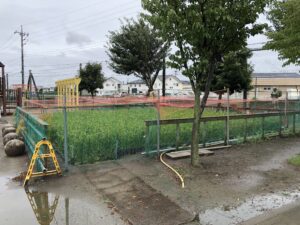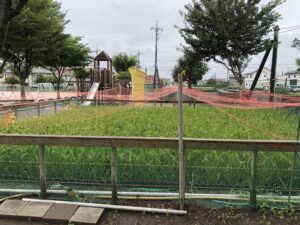 <May / 5月>